Subtitle: Paco Peralta – Patterns for the Sophisticated Woman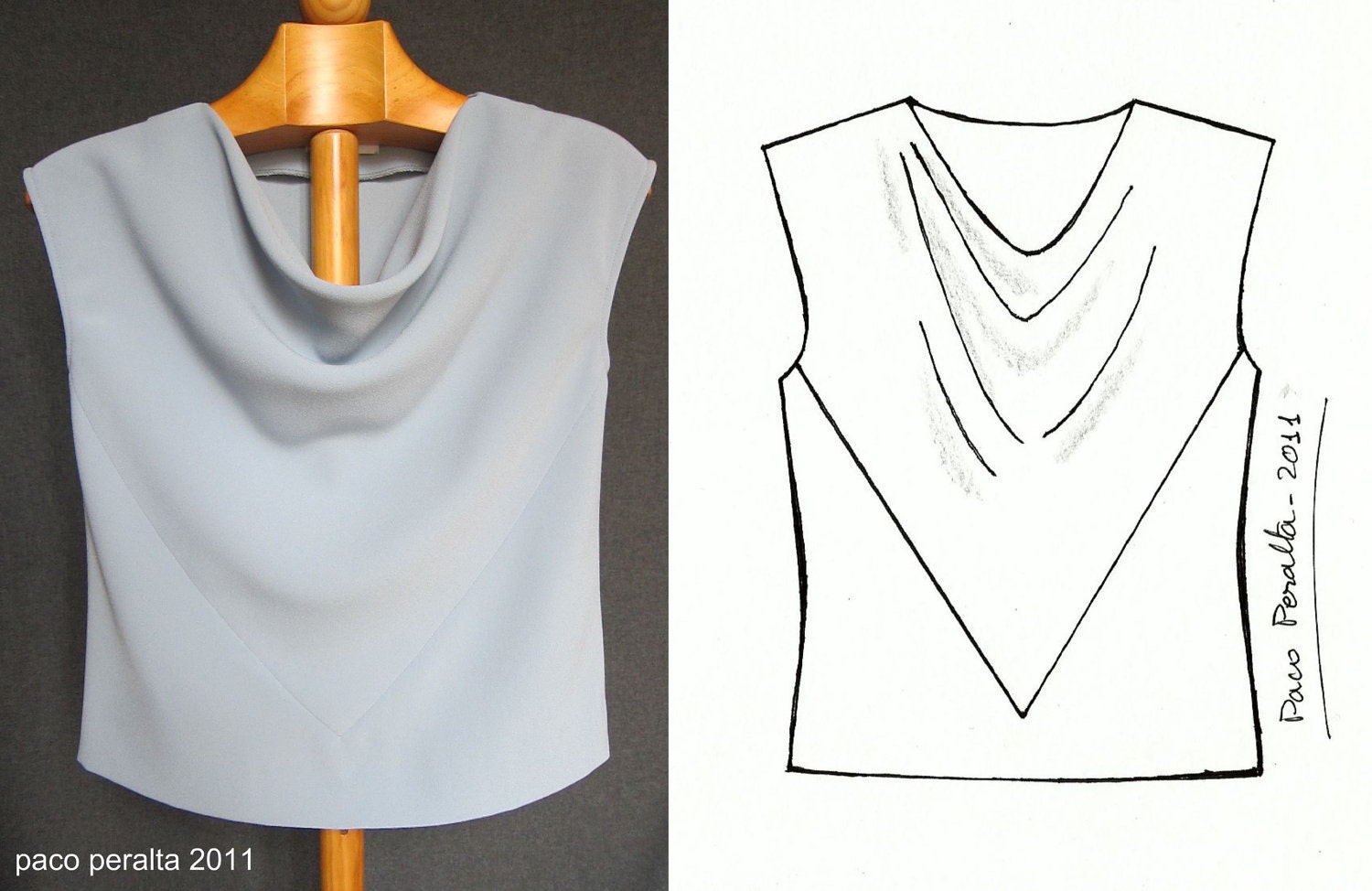 Pattern Description: From Paco's Etsy store: Sleeveless blouse with draped front; it can be made of silk or similar fabrics, including stretch fabrics (knits). The pattern is simple and easy to sew. it consists of four pieces: lower front, upper draped front, back and back neckline facing. The armholes are finished with bias strips of self-fabric (pattern not included) or using a special purpose hemming technique for stretchy fabrics (if using knits). The pattern is drafted in three alternating sizes: Small, Medium, Large and X-Large (Bust 31,5, 34,5 37,5, and 40,5 inch.). A smaller or larger size can easily be obtained using the pattern master lines for grading. The pattern is hand copied from the original and the designer labes is provided, granting this pattern with "exclusive model" status.
Sizing: S-XL. I mad a Medium.
Fabric Used: Wide Silk Jersey in Merlot, from Gorgeous Fabrics (of course). Alas, it is long since sold out.
Needle/Notions Used: Stretch 70/10 needle, Metrosene thread, Pro-Tricot interfacing from Fashion Sewing Supply (the best interfacing out there, IMO)
Tips Used during Construction: Press that Bad Mamma Jamma, Sewing With Knits
Did it look like the photo or drawing when you got through? Yes
How were the instructions? There aren't any included, but this pattern goes together beautifully, so I didn't need any. Also, Paco has lots of information on how to make this pattern Here On His Blog.
Construction Notes: I made two muslins of this top and determined the size I want (Medium). While the second muslin looks good on, it needed an FBA to really fit the way I wanted it to and eliminate the shelf effect at the bust. A couple of folks asked how I did that. Well – it's kind of a cheat, forgive me Paco!
I simply adjusted the lines of the drape to give myself a little extra room. Here you can see the resulting pattern piece:


It's not the most elegant solution, but it fits well and works for me. As an aside, I once took a class with Jim Blinn, a computer graphics god from Jet Propulsion Laboratory, and when some snot-nosed kid tried to lecture him on using a more elegant solution to a technical problem, he replied, "Oh, I don't know. Brute force is a wonderful methodology." All of us in the class applauded, and I adopted that mantra as a way of life.
Other than that, I changed the hemline, which is 2 inches in the original pattern, to a 1/2 inch narrow hem. I used facings to finish the armholes and I hand hemmed everything.
Likes/Dislikes: I love this pattern! It's comfortable, flattering and beautifully drafted. Phyllis saw the size medium muslin on me last week, and she can vouch for how well the pattern is drafted.
Would you do it again? Would you recommend it? I am going to make it again and I highly recommend it! I love Paco's patterns because they are made for women who want to look like grown women, not like little girls. I can't wait to make more of them!
Conclusion: A great pattern that is going to become a staple in my wardrobe.
And here are pictures of it with The Pencil SkirtI made.

Next up: Phyllis is coming up and we're going to try to finish our dress form doubles.
Happy sewing!