I hope everyone had a great holiday season. Much as I love the holidays, I'm always happy to put an end to them. This year was really nice, with one really not nice aspect to it. We had a relatively quiet and very pleasant Christmas, until my sister fell on some black ice and broke her leg in two places. That is NOT the way we were all hoping to end up Christmas. It kind of put a damper on the rest of the holidays. The good news is that she should make a full recovery (touch wood), though it will take a while.
Other than that, it was relatively uneventful. DH took us all up to New Hampshire for a day of skiing on my birthday. Then for New Years, our sons invited a bunch of friends over for a party. They chowed on junk food and Chinese food. They are great kids, and the place wasn't too terribly trashed afterwards.
Today we took down the tree and I spent much of the day sewing. I'm making Paco Peralta's Apron Skirt
using the same blue and black double-faced wool that I used for my Marcy Tilton jacket. Because of the nature of this fabric, I'm having fun with seaming. More on that when I finish it, hopefully this week.
The other thing I've been doing a lot of this week is reading. I got several books for Christmas, and I'm about halfway through the first, Grace, a Memoir by Grace Coddington, the creative director at Vogue. If you've seen "The September Issue" or "In Vogue, the Editor's Eye" you know what a fascinating mind she has, and a wicked sense of humor. This book is a great fun read, giving you a front row seat to the goings on in the fashion scene from the 60s to today. It's illustrated with her fanciful sketches, and there are lots of photos, including some of her more memorable spreads in Vogue, both as a model and as a fashion editor.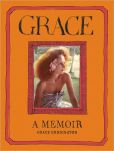 The other book I received was My Favourite Dress, a series of essays by lots of different designers and other fashion luminaries, showcasing their favourite dress and recounting why they chose that particular frock. I'm going to dive into that as soon as I finish Grace.

So that's it for the New Year. I'll post as soon as I finish Paco's skirt. I also just got a batch of new patterns from StyleArc that I'm dying to dive into. I guess that gives me a hobby.
Happy sewing!