I originally wrote this post almost 5 years ago, for our 30th anniversary. A reader asked if I could post it here, since my old blog is closed up. So here you go!
30 Almost 35 years ago, a love story began.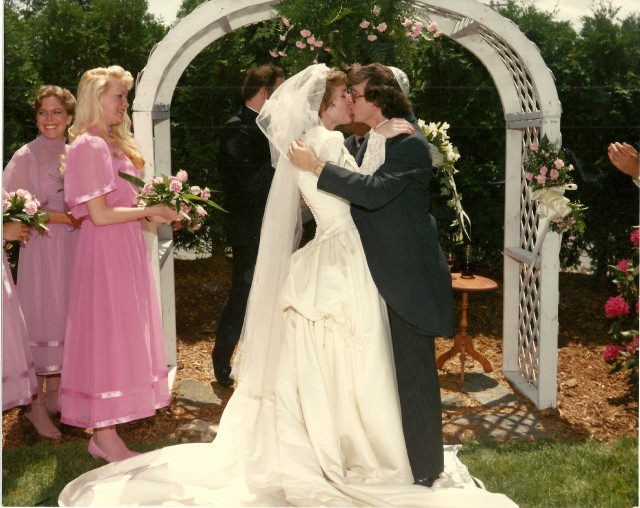 Since that beautiful June day, lots has happened – two sons, two careers, ups, downs, and everything in between that makes up a more or less normal life.
After the wedding, I had my gown preserved, and since then it's been sitting in a big honkin' box in the back of DS the Elder's closet. To mark our anniversary, we decided to go out for a nice dinner. What to wear, what to wear? Well, typical of my style, on Thursday of this week I got the hankering to make a new dress, and a light bulb went off. I don't have a daughter; I have a big old dress just sitting there. Surely there must be enough fabric to make something new that also is a sweet way to honor the occasion. I started looking through patterns at lunch and found this one.

Pattern Description: From Simplicity's website, "Misses' & Plus size dress with sleeve and neckline variations. Individual patterns for slim, average & curvy fit & B, C, D cup size for miss & C, D, DD cup sizes for plus. Amazing Fit Collection by Simplicity."
To add to that, this is an armhole-princess-line pattern. I made the v-neck, sleeveless version.
Sizing: 10-28 with cup size and curve variations for all sizes. I used a 12 at the shoulders, tapering to a 14 D-cup/Average figure for the rest.
Available as a PDF? Yes
Fabric Used: Silk Satin (Similar Here), Sheer Cotton Voile in White
Machines and Tools Used: Pfaff 2130 sewing machine, Juki serger, Iron, Ham. Shoulder press, sleeve board.
Needle/Notions Used: Universal 70/10 needle, Pro-Tricot Interfacing, ¼" cotton twill tape, Lampo lightweight mesh invisible zipper, Japanese hand-sewing needles, thread.
Tips Used during Construction: Fear Not the Fabric, Anything by The Pressinatrix, Sew from Wide to Narrow
Did it look like the photo or drawing when you got through? Yes
How were the instructions? I didn't use them. It's a straightforward princess line dress, and I can sew those in my sleep.
Construction Notes: I have to admit that I was very nervous about this project when I started. I didn't know what condition the dress would be in when I pulled it out of the box.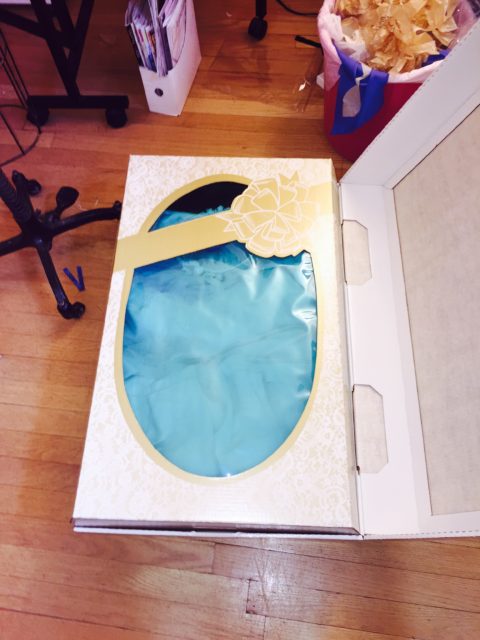 Fortunately, other than wrinkles from being stored in a box for the better part of 3 decades it was in great shape.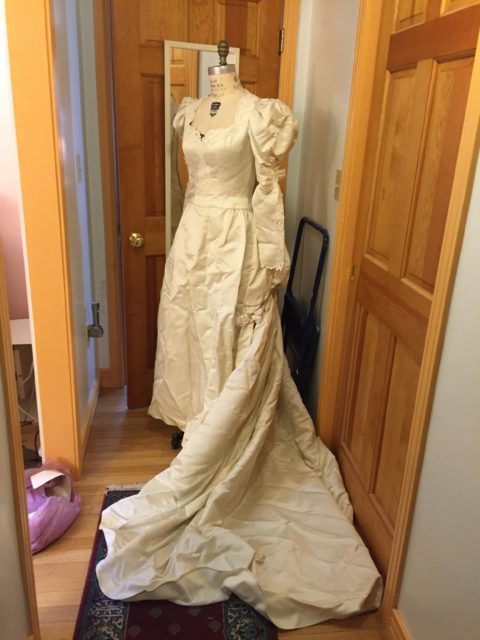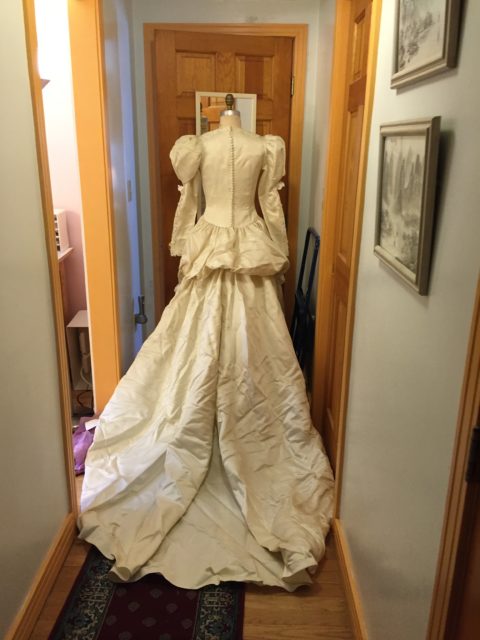 My heart was pounding as I started to cut the skirt but I got over my nerves and really enjoyed the process. I was fascinated to see that this dress was really, really well made. I had the dubious pleasure of helping a good friend with her $6000 Vera Wang wedding dress several years ago, and I was appalled at the shoddy construction used – unfinished seam allowances, threads left hanging, and 4mm stitch length. But my dress was beautifully made, with wide seam allowances, hand-sewn lining in the bodice, tight stitching and all seams finished. Not a serger stitch in sight, either.
There was enough fabric in the skirt to make the dress a couple of times over. I cut out the pieces and decided, thanks to time constraints, to underline the dress (the pattern is unlined) with cotton voile rather than create a lining for it. I made a quick muslin to check the fit. I have found that Simplicity patterns run huge on me through the upper chest and shoulders. This was no exception. I started with a 12, and I still had to take about an inch out of the back neck (I used darts) where it gapped dreadfully. I tapered out to a 14 at the bust (using the D-cup pieces) and gave myself a skoosh extra room at the waist (sigh…)
I used twill tape to stay the v-neckline. I hand basted the underlining pieces to the outer dress pieces and sewed it up. I used the serger to finish the facings and the hem. This went together very quickly. Once I sat at the sewing machine I sewed it up in 4 hours from first seam to last hem stitch. Pressing everything properly took the bulk of that time.
Likes/Dislikes: This is a great base piece for any wardrobe. I love the simple clean lines. I love the different cup sizes and curviness options. Hate Simplicity's fit through the upper chest, but I know about it so I can fix it easily. There's nothing I dislike about the pattern (other than the aforementioned fit issue). The pattern is beautifully drafted and goes together without a hitch.
Would you do it again? Would you recommend it? I would do it again. I definitely recommend it.
Conclusion: I'm so happy with how this turned out. I have enough fabric from the dress left to make a bolero, which I think I will do at some point. I also have all the lace, which would make a nice trim on said bolero. Enough of my yammering, here are pictures…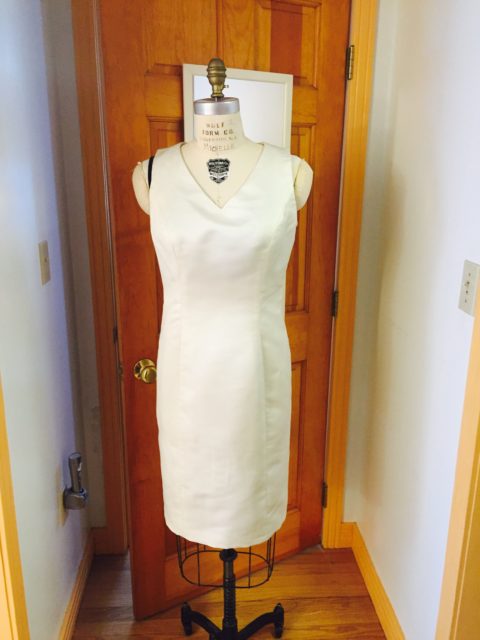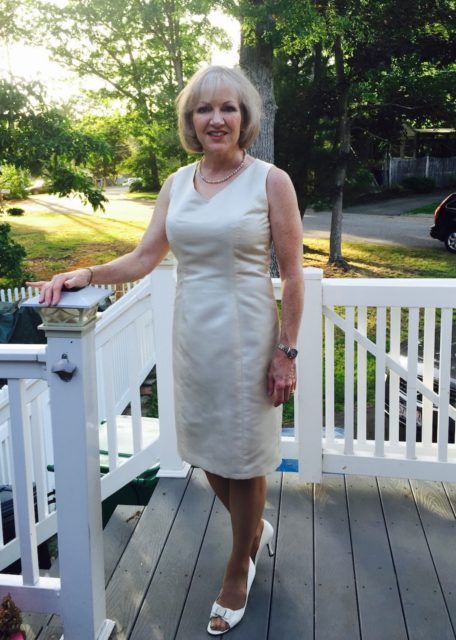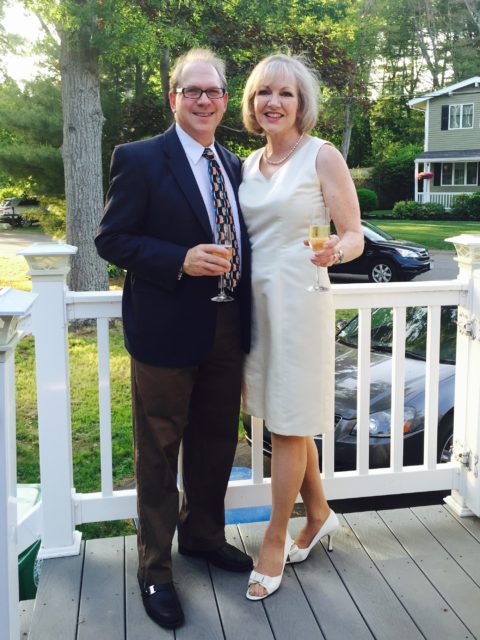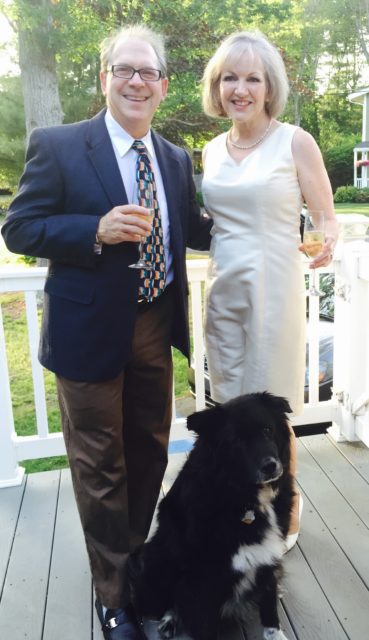 So, go get that wedding dress out of storage, and make it into something you'll enjoy now. After all, there's no time like the present.
Happy sewing!