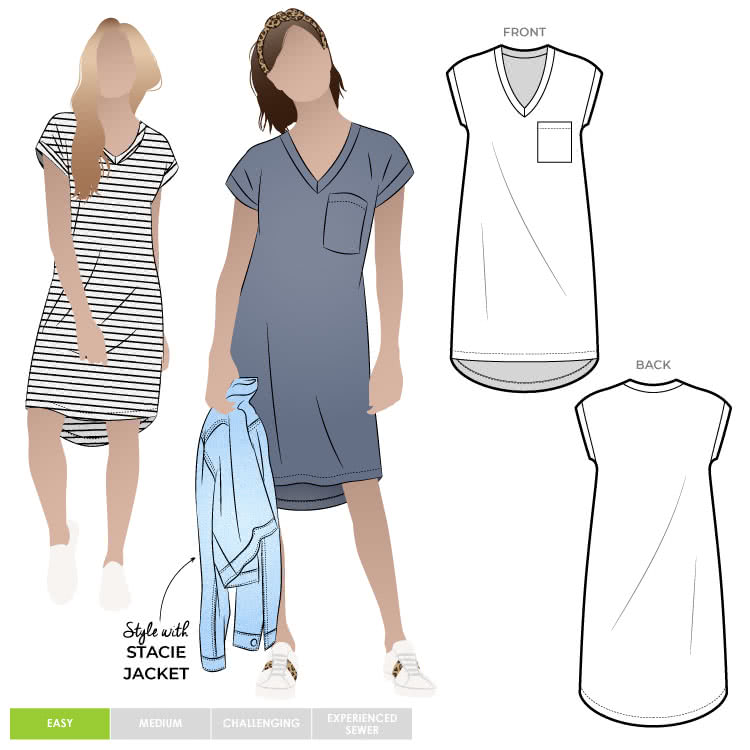 We had a fleeting moment of spring last weekend here in Boston, before the cold weather came roaring back on the winds (literally) from Canada. But that lovely day was enough to put me in the mood for an easy summery project. And by "easy" I mean both easy to make, and easy to wear in the warm weather. In a happy coincidence, I opened my mail last week and there was a thoughtful gift from the ladies at Style Arc of several patterns, including this one.
As an aside, they were supposed to come to the US to visit, and we had planned to spend time together in Boston and New York. Alas, thanks to COVID-19, they have had to scrap their trip, so they sent me the patterns as a consolation. Sigh. Stoopid virus.
Anyway, I saw the Richie Tunic Dress and thought, "there's the ticket!" So I pulled it out, traced off the 5 pieces that make it up, and got to work. I cut it out of a piece of Tie Dye Effect Double Brushed Jersey in Corals (sold out, sorry) that I ended up with because there was a stain on the piece that made it unsaleable. Fortunately, I was able to place the pattern pieces so the breast pocket covered it up.
(I'm also pleased at the pattern match on the pocket.)
This pattern is super simple. It consists of front, back, two arm bands, neck band and pocket. There are only two seams. I ran those up on my serger. I basted the neckband and arm bands to the garment with my sewing machine, then attached them with the serger. I topstitched around the neck and armholes with my sewing machine. My coverstitch was being fussy last night and I was too tired to adjust it, so I just made a very narrow zigzag hem.
This went together very quickly. This is one of those patterns that takes under 2 hours from start to finish. I will probably wear it with sneakers in the summer, and a belt and sandals if I want to dress it up. I could also see this as a great beach cover up or even a nightshirt. Definitely a great piece to take on a vacation, if we ever get to go on those again.
Here are some shots on Shelley. If it ever warms up again I'll try to get pictures on me.
Front:

Back:

Sleeve finish detail:

And in a happy coincidence, check out the pattern match across the side seam!

The other side seam, not so much. Oh well, I didn't expect it.

In conclusion, this was a fun, easy project that just took a few hours. It's a great beginner piece, so give it a try!
Happy sewing!