As I mentioned in my last blog post, not a lot of sewing has gone on in the last month, but this weekend I was able to make a fair amount of progress. I've been working on Style Arc's Armidale Dress off and on for about a month.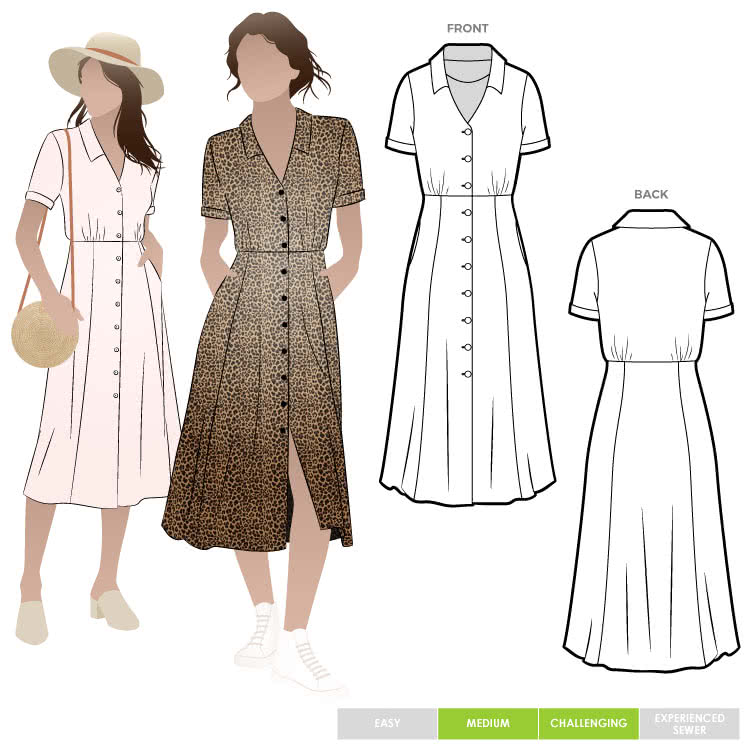 It was a downloaded behemoth, of 50-odd pages, and putting it together made me tired of it before I even started cutting it out. But I like the somewhat 30s vibe (I've got that going on this spring/summer I guess), so I stuck it out.
Always Make a Muslin of a New Pattern
I cut a size 10, and made a 1/2 inch FBA, per my usual with Style Arc patterns. I made a muslin of the bodice to check the fit.
After I was satisfied with the fit, I took the muslin apart and used it as the pattern for the bodice.
Here I'll interject a comment about the style of the dress. It's described as "fit and flare" on Style Arc's website. That is true, but it's also got a slightly raised waistline, which (to my eye) doesn't match the "model drawing" for the pattern. To me, it looks from the drawing on the model like the bodice and skirt meet at the natural waist. The technical drawing is more accurate. Forewarned, and all...
Construction Details
Anyway, I cut out my fabric, Super Soft Chambray Twill - Black Heather (wow, I got to sew something that's still in stock - amazing!). For interfacing, I used gray woven fusible interfacing from Fashion Sewing Supply, which I think is alas, no longer available, but the black and white are.
As per usual, Style Arc's directions assume you know what you're about. But the dress is very well drafted and goes together quite readily if you have even an advanced beginner level of experience.
I sewed all seams on my Little Brother machine, and finished the seams and facings with my Juki serger.
I made the buttonholes on my Little Brother (god, how I miss Jonathan!), and I used buttons that I got from Fashion Sewing Supply (alas, I think those are no longer for sale on the site).
Likes/Dislikes
As I mentioned above, I seem to be into a slightly 30s vibe recently, and this dress does the trick nicely. I like the soft gathers in the bodice. I also really like the cuffed sleeve. The pattern goes together quite well. There's nothing I really dislike.
Here are pictures on Shelley:
I wore it to work today with sneakers and pearls, and gasp! Here's a sucky selfie of it on me.
Oh yes. It's got pocketses, precious!
I have no idea what I'm going to make next. I'll figure it out over the next few days, while I put up the rest of the fabrics I bought during my stealth NYC buying trip (almost) 2 weeks ago.
4th of July Sale!
Oh I forgot to mention - our Great Big 4th of July Sale is going on right now! Until July 6, 2020, save 15% off orders over $50. No coupon required. Just fill your cart and go.
I hope you are staying well, sane and positive during these very strange times. Remember that every day that passes is a day closer to returning to "normal". Hang in there. We'll get through this stronger. I love you all, and as ever,
Happy sewing!