I live in knit tops all year round, and recently I started to change my closet and bureau from winter clothing to summer. That may have been a mistake, since we got snow yesterday (!!!) here in Boston.
Back to the subject at hand, I have realized that many of the tops I've made are more than a decade old, and some are showing their age, so I decided to make some new tops. I made one from my TNT Ann Tee Top pattern with a minor modification (I eliminated the front ruching and made it a "straight" tee). Then I decided to try a new top. So I pulled out one I haven't made before: the Style Arc Evie Knit Top.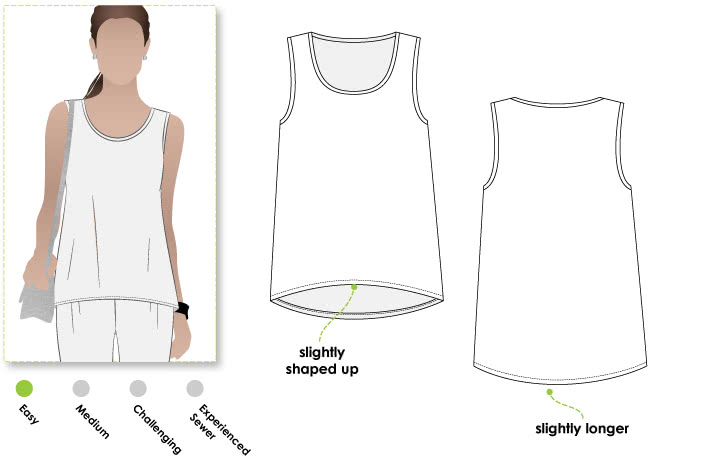 It has several features that I like: the slight trapeze silhouette, the open neckline, and the banded neck and armholes. I also like the shaped hem.
Construction Notes
I used a size 10. The fabric I used is Chrysanthemum Dreams Double Brushed Jersey - Purples/Golds/Aquas/Greens which, amazingly, is still available. Usually I don't get to sew with fabrics from the store until they are long since sold out. But this one is still there, and it's a dream to sew.
I started out by taking a flat pattern measurement on my size 10 pattern. Based on that, I did a slight FBA. One thing I like about Style Arc's patterns is that they include the entire front and back for their tops, rather than half that you place on the fold. But in this case, doing an FBA is easier on a half-pattern, so I traced off the pattern piece and did my usual FBA adjustments.
It's a little hard to see from this picture, but the CF hem on the adjusted pattern is about 1/2 inch below the original, so I redrew the curved hem.
Once that was done, the rest was a breeze. There are 4 seams in the garment: 2 shoulder seams and two side seams. I reinforced the shoulder seams with small scraps of fusible interfacing, then I ran all seams up on my serger.
I basted the bands to the neckline and armholes using my Juki DDL-8700 industrial, then I serged them and removed the basting.
I serged the raw edge of the hem, mostly to give just a little weight to it. Then I used a straight stitch to hem.
Overall, this is a SUPER easy top to make. It's great for beginners, and it is really cute. I haven't had the chance to wear it yet, thanks to the freaking nor'easter that dumped several inches of snow on us yesterday. But spring in New England is notoriously fickle, and next week it's supposed to be 70º around here, so I'm sure I'll get to wear it soon. In the meantime, here it is on Shelley.
Evaluating Seraflex Thread
I currently carry the entire line of Mettler Metrosene Thread on the site. Mettler recently released Seraflex, their elasticated thread. I tried another brand of elastic thread when it was released a few years back, and I was, to be blunt, underwhelmed. That particular thread was around $4 per 150 yard spool, which is more than twice as expensive as their regular thread. After testing it, I thought it was overpriced and underperforming. I mentioned this to my thread wholesaler, and he sent me some Seraflex to try out.
In addition to sewing the hem, I used Seraflex to sew along the neck and arm bands. I have to admit, I like what I'm seeing so far. It has decent stretch, and it gives a good, smooth stitch.
It is more expensive than Metrosene thread, but not by a lot. There aren't as many colors (36 vs 300+), but it works well with knits. I'll try it with some other fabrics, but so far, it looks pretty good. I'm considering carrying it on the website, and I'd love to hear your opinions if you've tried it.
Until then, happy sewing!