Goodness, it's been almost two months since I last did a blog post! I have been sewing, but mostly knit tops from my go-to pattern, Style Arc Ann Tee Top (no relation), so there hasn't been a lot to talk about. It's all been on Instagram, which if you don't follow, you should. You get to see my works in progress, along with gratuitous Mooshie the Border Collie pictures.
But this weekend, I got a shipment of patterns from Style Arc, and I decided to venture outside my wheelhouse and make myself a pair of Pants from their Barbie Jumpsuit/Pant pattern. I paired it with New Look 6838.
Style Arc Barbie Pant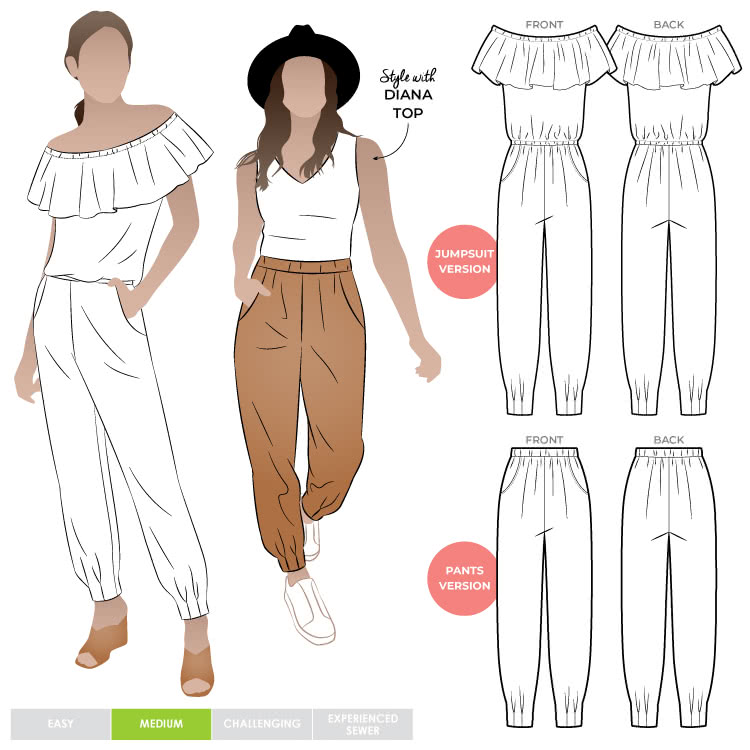 When I visited Australia, I ended up buying a pair of joggers that I wore to death. These pants have a similar style. The pants have an elasticated waistband, and four inverted box pleats at the ankles. I was intrigued by the style. I used a (sold out, sorry) Tencel rayon twill in a deep orange.
Construction of the pants was quite straightforward, though I used a different method than the instructions, one which I find to be easier. I call this the Burda method, since I first learned it from a Burda pants pattern.
Step 1: sew each pant leg separately, sewing the front to back at the side seam and inseam.
Step 2: put one leg inside the other, with right sides together and pin along the crotch curve seam.
Step 3: sew the crotch seam.
Step 4: Press the seam, turn right side out, and voila!
This is the easiest way to sew pull on pants, and once you get the hang of it, it works equally well for pants with zip closures. I've even used it with fly-opening pants, though that takes a little planning.
The waistband has 1 1/4 inch elastic, and rather than overlap the elastic, I trimmed it, butted the ends and sewed them to a piece of muslin to reduce bulk.
The pants were quite simple to make. I'll wear them tomorrow if the weather holds. It's been pretty chilly and very windy around Boston this weekend and today. Hopefully it will start warming up this week.
New Look 6838 Top
I've made this top twice before. Unfortunately, it's out of print, though you can find it on Etsy and probably on eBay as well.
I've made the bateau neckline and the sleeveless version. Today I made the v-neck version, but with the bracelet length sleeves instead of the long sleeves. I used Floral/Paisley Textured ITY Jersey - Red Tones on Burgundy, which miracle of miracles, is still available on Gorgeous Fabrics!
Construction was quite simple. I serged all the seams and used my little Brother machine to stitch the hems.
One warning about this pattern: it runs REALLY large. I use a size small, and it's still pretty roomy. I also Set the Sleeves in Flat, rather than in the round, which is my preferred method for knits. This pattern goes together quickly, and I was able to cut it out and complete it before dinner. Here's a picture of the two pieces together, which is how I'll wear them, along with ballet flats or wedges.
And here's the back of the top.
I do like the fact that this pattern has a CB seam, so you can do more fitting on it than with one that's cut on the fold. If you come across this pattern, I highly recommend it.
I hope you're staying well. Be sure to mask up, get the vaccine as soon as you're eligible (I did!), and of course,
Happy sewing!